---
SUCCESSFUL CROP WALK!
Thank you all for your amazing support of our 43rd annual SFV CROP Walk! WHCC raised $814.06 which includes $53.17 raised by our Sunday School children and various donations! You all made this year's walk a tremendous success! Thank you for your wonderful joint effort!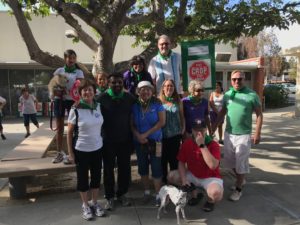 ---
WHCC MUSIC FUNDRAISER NOVEMBER 25
WHCC Music is having a fundraising Craft Sale!  After church on Nov. 18 and 25, check out the beautiful items handmade by the church's musicians!   And, for the first time ever, you can pre-order our very own Sarah Scott's Lady Chocolatier fine chocolates for the holidays!  Get a head start on your Christmas shopping!
---
WHCC CAMPUS IMPROVEMENT WISH LIST…
The Leadership Team is asking all interested members/friends to participate in a survey to determine where and how to start some very much needed campus improvements. Survey sheets are available in the Narthex and office November 11 to 25. The results will be tabulated and presented at our Talk Back session on Sunday, December 2 in Smith Lounge at 11:30 am. Questions? See members of the Leadership Team Betsy, Larry, Nita or Vanita.
---
CALLING ALL ANGELS — ANGEL TREE TOY DRIVE
Would you like to give a child in the foster care program a gift this year? Sign up to be an Angel! Please stop by the Church office to chose your tag .  If you prefer to give a monetary donation we will do the shopping for you.  Gifts are due by December 4, 2018. Thank you in advance for your generosity! if you have any questions contact Lisa in the Nursery School.
---
NURSERY SCHOOL'S ANNUAL THANKSGIVING FUNDRAISER
Our school's Annual Thanksgiving Fundraiser and Turkey Feather Display will take place November 13-30. This fundraiser is an invitation to all Nursery School families to donate to our school during this season of giving thanks. All donations are tax-deductible and will go towards purchasing new equipment and supplies for your children's classrooms. The Turkey Feathers will be displayed in the breezeway on the rolling announcement board. Take this opportunity to speak with your children about what they are thankful for and write it on the included feather. Donation envelopes with turkey feathers will be available in the Narthex. Thank you for supporting the Nursery School.
---
MUSICIANS NEEDED FOR CHRISTMAS CONCERT
WHCC will have its annual Christmas concert on Sunday, December 9 at 6:00 PM. The concert will feature several performances from our adult chancel choir as well as our youth choirs. We are hoping to have other individuals provide vocal or instrumental music for the celebration as well. If you would like to share a musical number at the Christmas concert, please contact our Song Leader – Lucia Marco and let her know the piece you would like to share. We hope to have the performers finalized by Monday, November 26.
---
CHRISTMAS CONCERT DECEMBER 9
WHCC's annual Christmas concert will be held Sunday, December 9 at 6:00 PM in the sanctuary. The chancel choir, the youth choirs (God's Kids and Spirit Express), and the Youth Band will be among the performers for the concert. Other individuals from the church will share their musical gifts as well. Questions? Contact WHCC Song Leader Lucia Marco.
---
CHRISTMAS CANTATA DECEMBER 16
WHCC's annual Christmas cantata will be shared during the December 16 worship service. We hope you will put this event on your calendar now as we celebrate the arrival of God's most sacred promise through song!
---
END OF YEAR GIVING
The final bank deposit for 2018 will occur the morning of Monday, December 31. If you have any giving that you would like credited to 2018 for tax purposes, those gifts MUST be received in the office by 9:30 AM Monday, December 31. Any giving after that time will be credit to your 2019 giving.
---
NEW MEMBERS' CLASS JANUARY 12
Are you new to WHCC and would like to establish membership in the church? If so, the next new members' class will be Saturday, January 12 from 10:00 am until 12:30 PM. Pastor Craig will teach the first half of the class from 10:00-11:00. It will focus on the history and theologies of The United Church of Christ and Woodland Hills Community Church. There will then be a 15 minute break. Members of the Leadership Team will then lead the second half of the class from 11:15-12:15 PM. It will cover the structure of WHCC, its varies ministries, and its finances. Then we'll have 15 minutes to close and address any lingering questions. If you are interested in being a part of the class, please let Pastor Craig know! We look forward to this exciting time of growth for the community and those who are becoming a part of it!
---
WEST VALLEY FOOD PANTRY
The Pantry no longer allows paper grocery bags on the premises. So, we are in need of donated plastic handle bags or the sturdier "carry bags". If you have accumulated such items, and would like to donate them, please put them in the large basket in the Narthex. Thank you for all you do for the Pantry.
---
 

Woodland Hills Community Church  /  21338 Dumetz Rd, Woodland Hills, CA. 91364  / 818-346-0820