CHANCEL CHOIR DESCRIPTION
Chancel Choir rehearses every Wednesday evening at 7:30 pm in the Chapel under the direction of Dianne Meyer.  Dianne Meyer is a public and private school music teacher
Chancel Choir sings during the 10:00 am services each Sunday.  They typically sing one anthem and lead the congregation in the singing of the hymns. Dianne chooses exciting contemporary music and works to ensure the balance of each part. At Christmas and Easter we present special music and usually have extra singers from the community join us.  In the summer, the Chancel Choir takes a break.  Individuals and small groups present special music during this time.
The choir wears red robes with reversible neck stoles that are changed for Communion and religious holidays. Those who can carry a tune are welcome to join this fun, intimate group.
CHILDREN'S CHOIRS 
Dianne Meyer leads two children's choirs named Gods Kids and Spirit Express. They rehearse during the school year on Sundays in the Sanctuary.
The younger children's choir God's Kids is for children in Kindergarten through second grade.  They rehearse from 11:10 am to 11:30 am. The older children's choir, Spirit Express, is for children in third through fifth grade.  They rehearse from 11:30 am to 12:00 PM. The children's choirs sing occasionally during the Sunday Service.  They also sing for special services throughout the school year. Enrollment is open & free to all children.
Questions? Please contact Dianne Meyer if you are interested in participating in WHCC Musical programs or services.
–
–
–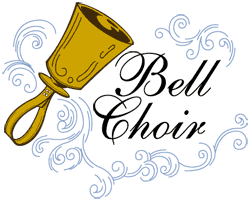 BELL CHOIR
The group meets on Wednesdays at 6:30 pm in the Sanctuary.  Those who can read music and have bell experience are invited.  If interested contact the musical director, Jonathan Carlisle or administrative director, Nita Standke.
–
–
–
Woodland Hills Community Church  /  21338 Dumetz Rd, Woodland Hills, CA. 91364  / 818-346-0820