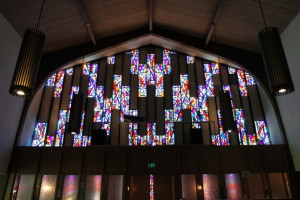 The Woodland Hills Community Church began when Rev. Ellsworth Smith (for whom Smith Lounge was named) searched for a meeting place for his Boy Scout Troop in 1942.
With the support of the Southern California Council of Protestant Churches, Dr. Nelson Drier began the process of organizing a drive for a Community Center which would host the Boy Scouts, Woodland Hills Chamber of Commerce, and a church.
The Congregational Conference advanced $12,000 to purchase four lots at the corner of Dumetz Road and Canoga Avenue and $500 more for an old army barracks. Rev. Floyd Bailey was hired as the first permanent pastor and the barracks opened for services on June 14, 1947.
Rev. Mel Harter became the pastor in October 1948. His wife, Marge, helped with directing the cooperative nursery school in 1949.
The barracks burned down in 1948 so ground breaking for Harter Hall started December 5, 1948. Ralph Bowerman, a member, was the architect for Harter Hall, later for our present sanctuary, and for Pilgrim Pines. James Denham was the contractor (and father of charter-member Eleanor Crouch and longtime-member Mary Wright).
The Woodland Hills Community Church Nursery School has been in operation in its present form since the summer of 1955. It started out as a cooperative nursery school for the community in 1949 under the leadership of Mrs. Howard Munns. Mrs. Oscar Reese was the director in 1951. Other directors were Marilyn Pedretti, Marjorie Morris, and Anita Hellstein, who improved the school's reputation to be the best in the area.
The Men's Fellowship was organized in 1953 to sponsor the first YMCA Club in Woodland Hills with Nick Buzolich as a supervisor. This coincided with the beginning of the West Valley YMCA into its present facilities in Reseda. The Women's Fellowship was formed out of two groups in 1955.
Pledges for the sanctuary began in 1956 which resulted in raising $71,000. This made it possible to ask for bids early in 1957 for the sanctuary construction.
Rev. Fred O. Doty began pastoring us in July 1957. Ground breaking started for our present church on December 22, 1957. James Denham once again was the contractor and the membership donated the labor for the building. The church was dedicated on October 19, 1958. A decision was made to build new classrooms in 1965 and they were completed in 1966. This structure is known as the Doty Building.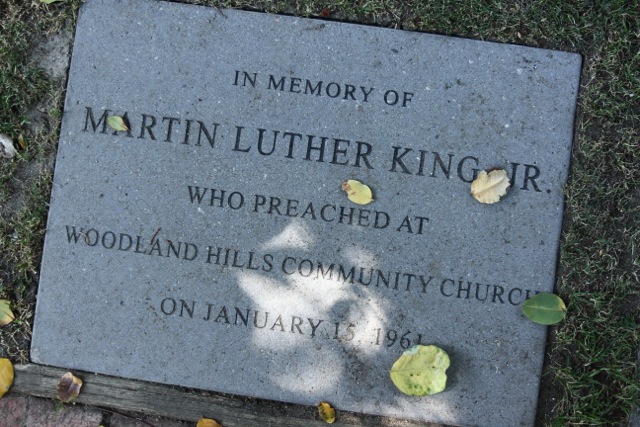 During Rev. Doty's pastorate many famous speakers spoke at our church: Dr. Martin Luther King, Andrew Young, John Wooden, Louie Lomax, Lillian Smith, Maurice Dawkins, Dr. Paul Brand, Dr. John Peters, Dr. Frank Laubach, Milliard Fuller, Dr. Alan Hunter, Dr. Roy Burkhart, and Robert E. Lee.
Many musical people have graced us including Jester Hairston, John Raitt, and Alfred McNeil. Our first choir director was Jay Breese (Breese Memorial Chapel), followed by George Hunter, Bill Lee (founder of the chorale), Stuart Groshong, and Berdie and Lloyd Gysin (who organized all the children's choirs and youth musicals). They were followed by Mark Sumner, Brian Vaughn, Alex Ruggieri, and today Dianne Meyer.
Rev. Donel McClellan joined us in the fall of 1971. Rev. Robert Richter began pastoring us in 1982. In September 1988 Signe Hardesty became our Pastoral Assistant. On July 29, 1990 a retirement party was given for Bob Richter honoring him and his wife Devora for their loving and thoughtful service.
Rev. Philip Price was ordained in our church in June 1991 and wonderfully served the church as minister for the next 11 years. In June 2002 the church hosted a tearful sendoff to Pastor Phil and his wife Vicki. After an interim ministry by Dr. June Goudey, Rev. Stephen Amsden answered the unanimous call of the church in August 2004. He served until his retirement in November 2008. Rev. Kel Henderson served as the interim pastor from January through August of 2009. Rev. Craig Peterson was then called to serve in September 2009.
Our Christian Education program became Youth Ministries. The directors were Rev. Floyd Bailey, Grant Smith, David Anderson, Glen Corbin, Mrs. Frank Denson, J. G. Wood, Dr. Pepronia Merjanian, Joan Thye, Patti Rea, Walter Higgins, Alan Abel, Signe Hardesty, Annie Patton (first paid coordinator), Barbara Millet, David Mark, Mary Conly, Avis Buzolich, Karen Rea, Heather Medvitz, John Gregory, Ann Bridge, Jeannine Ondrejko, Trina Taylor, Corrine Draper, Judy Shumov, and Annette Eddy.
Our church moderators have been Frank Olney, William Mikels, Robert Mowers, Charles Zahka, Tom Wathen, Ruth Abel, Ann Chisolm, Russ Kinderman, Jim Hardesty, Ralph Rae, Maria Barbee, Al Louaillier, Avis Buzolich, Kathy Ayers, John Benson, Lucille Duffy, Chip Rea, Von Leeking, Marvin McNeil, Betsy Zenter, Dawn Nelson, Jerry Douglas, Doby Hall, Dick Vogel, Doug Draper, Terry Sternberg, Shelley Saxer, John Benson, Ruth Abel, Al Louallier, Allan Comeau, Betsy Zenter, Lyn Owen, Kathi McIlvain and Leni Brown.
As can be seen from this brief history, it was not one but many dedicated and talented people who joined together to build Woodland Hills Community Church into what it is today: a caring family of faith.
Woodland Hills Community Church  /  21338 Dumetz Rd, Woodland Hills, CA. 91364  / 818-346-0820