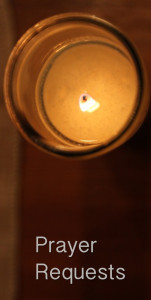 Week of June 18, 2017
A wonderful joy! We have a new tiny WHCC "member". Penny was born Thursday night. Please keep her & her Mommy & Daddy & big sister, Sarah, Brian, & Lucy in your prayers.
Christopher, Betsy & Karl's son, had a mountain biking accident & broke his collar bone, requiring surgery. Please keep the whole family in prayer.
Roy is recovering in hospital following open heart surgery — please keep him & Martha in prayer for a speedy recovery — that he will soon able to head home.
Charlie also needs our prayers — he fell & broke several ribs & is in rehab working to regain his strength.
Please continue to pray for Dick & Kathy, Sam & Elizabeth, the Wagner family, Betsy, Delores . . . as they each deal with challenges each day.
Karen called to ask for prayer support for several of her & Barb's close friends.
Gail & Chuck ask prayers for their son, Don, & his wife, Rolla, who have just given birth following a very difficult pregnancy.  Their tiny daughter, Brielle weighs less than 4 lbs. & is still in neonatal care at the hospital.  Please keep the whole family surrounded with love & caring prayer support.
Velma, asks our prayers for two loved ones.  Her husband, David, is having difficulties recovering from a hip replacement — he needs courage to meet the challenges of healing, and Velma's mother, Pearlie Mae, just suffered a stroke & needs strength to begin her long road back toward health.
And safe travels home from his vacation for Pastor Craig.  Lets pray he's bringing cooler weather home with him from up north for our "Thank You BBQ/Concert" Saturday evening . . .  appreciation for the community who expressed their concern & so generously supported WHCC following our break-in over Memorial Day weekend.   
 ____________________________________________
If you have prayer needs that you would like to have posted, please contact us: Prayer Requests
Woodland Hills Community Church  /  21338 Dumetz Rd, Woodland Hills, CA. 91364  / 818-346-0820