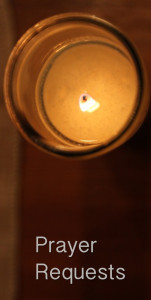 Week of May 20-26, 2018
Continued prayers for (and appreciation of past prayers for) Betsy N's family as they deal with the passing of the family's patriarch two weeks ago.

Prayers for Sarah S's family - as they deal with Sarah's grandmother's illness.

Prayers for Alex M's employment search and his wife's employment situation.

Prayers for the family of Gene Kuehl - former minister at Pilgrim Pines - who passed away recently.

Prayers for the royal family - and the shift in the world that this union represents.

Prayers that peace and understanding fill our homes and the world.

Prayers for Walter and Mira N's family.

Prayers for Pam and David E as they transition to their Montana home for the next 6 months.

Prayers of gratitude for Barbara R's family - who sold some of her beloved jewelry to church members and donated proceeds to the church.


 ____________________________________________
If you have prayer needs that you would like to have posted, please contact us: Prayer Requests
Woodland Hills Community Church  /  21338 Dumetz Rd, Woodland Hills, CA. 91364  / 818-346-0820