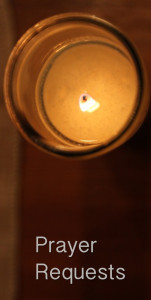 Week of July 23, 2017
Someone asks prayers for a friend, Sarah & her newborn, born Saturday. He is in NICU with respiratory problems & they are asking prayers to restore him to full health & ease for the hearts of Sarah, her husband & their families.
Stacey shared praise for her friend, Heather & her little boy, Zen. He was released from NICU yesterday & is going home!
Evelyn expressed gratitude that her friend was with her for Sunday School & that her Mommy is feeling better. And her friend, Aubrey, appreciates her friend, too, & expressed gratitude that her Grandpa is in Heaven this week.
Someone asked that we keep her husband & her in prayer, asking God to give them both strength to get through these challenging times in their life.
Lori says, "Please pray for me."
Emily asks prayers for the family & friends of the Chatsworth man who took his wife's life as well as his own last week.
Mira reports that Lida is grateful for all our prayers, she is slowly getting better. And she also asks for prayers for her husband, Walter, who is having hip replacement surgery this week.
Pam asks prayers for strength & healing for her niece, Suzi, who had successful emergency surgery last week for an intestinal blockage — she is recuperating nicely "with the grace of God & pain pills".
Lake reports that the remodel on her apartment has been postponed 2 weeks, so her relocation is also delayed & she will be home from her vacation before the move back in date. She still needs help & our prayers of support.
Lila is still struggling with her battle against shingles — so painful. Please hold her in prayer for strength & complete healing soon.
Clark is slowly recovering . . . "too slowly", according to him — & Kathi, too.
And . . . continuing prayers for comfort & love for Kathy, Kevin, Dana, & Doug Ayers as they morn the loss of their mainstay, Dick. And continuing prayers of support for Delores, Marv & Doreen, Walt & Maxine, Betsy.
 ____________________________________________
If you have prayer needs that you would like to have posted, please contact us: Prayer Requests
Woodland Hills Community Church  /  21338 Dumetz Rd, Woodland Hills, CA. 91364  / 818-346-0820