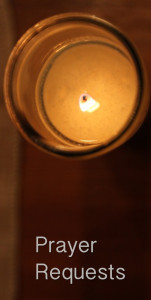 Week of January 14, 2018
Please continue to surround Christopher & Joan Wagner in prayer — strength, courage, as he continues his reach for renewed health.
Karen (Barbara Robinson's daughter) learned this week that her close friend, Hope, passed away early this month. Prayers for Hope's family & for Karen, too, as they mourn their loss.
Emily asks prayers for a Target employee she has met. Shada is seeking refuge from an abusive relationship & a way to reconnect with her teenage son. Please pray that she finds a shelter & hope in her dark time.
Someone asks prayers for the people of Montecito to bring them to peace & comfort after the loss of their homes & lives. And also expresses thankfulness that the missile scare was a false alarm for the people of Hawaii.
Alex asks prayers that he & his wife stay employed & that he finds stable work in his field beyond one day a week so he can support his family.
Zazel asks prayers for the Wegner family, and for Candice as she recovers from heart surgery.
Lake asks prayers for her step-mother, Ann who is now in hospice care.
And Lake also reports (along with her Mom, Zazel) that after 5 months she is back in her apartment. She says, "I'm pleased, but there is much yet to do — putting things away, replacing things, etc."
 ____________________________________________
If you have prayer needs that you would like to have posted, please contact us: Prayer Requests
Woodland Hills Community Church  /  21338 Dumetz Rd, Woodland Hills, CA. 91364  / 818-346-0820