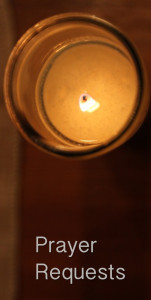 Week of November 5, 2017
Gina has set up an opportunity to join Delores for coffee, Tuesday morning, November 14th from 9:30 – 11 am at the Woodland Commons where she is living.  Delores is looking forward to enjoying company, so please plan on spending a bit of that morning with her if you are available & continue to hold Delores in prayer as she acclimates to her new home surroundings.
Signe's hip replacement surgery went well & she's back home hard at work on rehab.  Please continue to surround her & Jim with prayers of love, healing & patience too — rehab takes time.
Reminder — please continue to pray for Jeff Gleason who died last week.  Pastor Craig will conduct his memorial service this coming Friday afternoon, Nov. 10 at   1 pm in the Chapel at Oakwood Cemetery in Chatsworth.
A prayer card all filled out yesterday morning asking for continuing prayers for Kit — when in she walked to the service, along with her helper.  What a wonderful surprise!  She is still dealing with pain from injuries & needs our loving prayers for continuing progress to regain her strength & health.
Continuing prayers for Kathryn & Dee as they mourn the loss of her sister, Virginia, after her long struggle with leukemia.
Gary & Sue need prayers of hope that her resent chemotherapy brought relief from pain & that their long awaited trip to Italy& the Greek Isles is progressing as planned.  They are traveling now — please pray not just for safe travels but also that she is strong enough to truly enjoy each moment!
Betsy & her husband, Nasim, need us to keep praying for strength & healing as he struggles with ongoing illness.  And add a prayer that Betsy will soon be able to join us at church Sunday mornings.
We all need to surround the people of the small Texas town with God's love & prayers for healing & peace after Sunday's rampage.  It's so hard not to keep asking God WHY, WHY, WHY? as we hear about more & more ugliness in our world.  Please, God, we pray for your help & guidance as we continue to face such horror.
 ____________________________________________
If you have prayer needs that you would like to have posted, please contact us: Prayer Requests
Woodland Hills Community Church  /  21338 Dumetz Rd, Woodland Hills, CA. 91364  / 818-346-0820