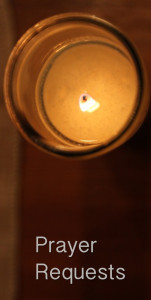 Week of November 18 – November 24, 2018
Lake asks prayers for Ginette (Gini) who is having kidney transplant surgery tomorrow. She & the donor will be in surgery all day. Please keep them both surrounded with love and caring.
Joan's friend asked her to place the roses on the altar today to remember all affected by the fires — please pray for them.
Tina asks prayers of strength for all those who lost family, friends, pets, or their homes in the horrible fires this month. Help heal their traumas & worries & slow them down to remember to be thankful that they are alive.
Diane & Bob lift up in prayer those who lost their loved ones, their homes, or their beloved pets in the recent California wildfires. And they thank God that their home of 40 years was spared among many close by that burned to the ground.
Kent says — "I want to say thank you to everyone for the cards, calls, texts & prayers. My Dad's passing was difficult, but knowing that so many people care about us made it much easier. Thank you!"
Cynthia says, "Today I celebrate the life of Ray Wagner — a true beloved Angel!"
Cynthia also asks prayers for Coleen, the mother of the Thousand Oaks shooter who carries the burden of losing her son & the 12 lives he took. Her burden will be long & lonely, marked with despair & hopelessness.
Gina asks guidance & safety for Israel, our homeless young man among us. Prayers help, but help is needed in so many ways — medical help, housing, & companionship. We pray for answers.
 ____________________________________________
If you have prayer needs that you would like to have posted, please contact us: Prayer Requests
Woodland Hills Community Church  /  21338 Dumetz Rd, Woodland Hills, CA. 91364  / 818-346-0820