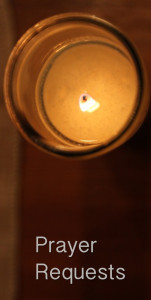 Week of September 16 – September 22, 2018
Wendy asks continued prayers for a full smooth recovery for her Mom. After her recent 3rd revision back surgery, she has been out of hospital & home for over a week & it does not look like she will need another revision surgery.
Deb asks prayers for her senior dog companion who is fighting an intestinal bug — he doesn't like his meds & is refusing to eat.
Alan & Tina ask God to teach their daughter compassion & to provide them with patience & understanding so they can rebuild a loving, open relationship together.
Zazel requests prayers for people in harm's way of the hurricane this weekend.
Please pray that Kaiser's Neurology Dept. will soon be able to figure out what is happening to Jeanne — finding a reason for her shaking & weakness & a way to regain her life again.
Continuing prayers for Roy & Martha, Delores, Chris & his Mom, Joan, Allison who is home following her long stay in rehab, Betsy & Nasim, Charlie, Mert, & anyone else that may be in need of prayer.
 ____________________________________________
If you have prayer needs that you would like to have posted, please contact us: Prayer Requests
Woodland Hills Community Church  /  21338 Dumetz Rd, Woodland Hills, CA. 91364  / 818-346-0820