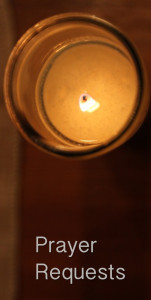 Week of May 21, 2017
Bettina Bush Holzman asks prayers to lift up her strength & perseverance as she climbs Mt. Kilimanjaro this week with 10 inspiring & extraordinary mothers. And also prayers for the comforted hearts of her children who will miss Mommy but enjoy a special week with Grandma.
Zazel wished Lou a very Happy Birthday — he turned 90 last Saturday with a special party planned by his son & grandson, Kevin & Corwin.
Emily asks prayers for her sister & her family — they are in the middle of a frustrating remodeling disaster on their home — prayers for their continuing patience. She also expressed praise & congratulations to her neighbors, Michelle & Jason, on the arrival of their first son, Miles.
Ray expressed prayers of thanks — I'll use his own words . . . "I want to thank everyone for their prayers for me during what happened to me last Sunday. I am fine now, & I especially want to thank all who helped me after the episode & with the paramedics afterwards. I love my family at WHCC!!!!" Please continue to keep him & his Mom, Joan, in prayer as they meet ongoing health challenges.
Marnie has said a grateful "Goodbye" to the back brace she has worn for weeks. Prayers of gratitude for new freedom!
Pam & David left last week for the next few months at their other home in Montana, as they do each year. We will miss them both, but keep them close in prayer until they return "home" to Woodland Hills.
Jeanne is feeling prayers of gratitude for the support given by the congregation during the Town Hall meeting to those who have rewritten WHCC's By-Laws. They were reworked to reflect the new Leadership Team governance model adopted a year ago on a trial basis when we suspended the current by-laws for a year. With minor corrections, the new By-Laws will be presented for adoption at the Congregational Meeting in 2 weeks, on June 4, 2017, along with the presentation of the nominees for next year's Leadership Team. Please pray for clarity & stamina to complete the job in preparation for that meeting — & continuing success for the new Leadership Team as they begin their new term, July 1, 2017..
And finally . . . ongoing prayers for Dick & Kathy, Gini, & other church family members.
 ____________________________________________
If you have prayer needs that you would like to have posted, please contact us: Prayer Requests
Woodland Hills Community Church  /  21338 Dumetz Rd, Woodland Hills, CA. 91364  / 818-346-0820