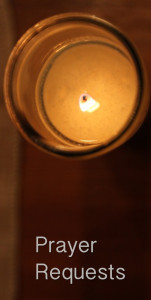 Week of July 15-22, 2018
Emma W asks prayers for her Uncle Bob, who is awaiting surgery.
Prayers of gratitude that Joan W's dog, Ginger, that her dog came through a procedure with positive health results.
Joan W asks prayers for her son, Chris, who has been in the hospital & now is being released to face the challenge of healing & regaining his strength at home.
Roy & Martha H's daughter, Joan P, was in church this morning asking 

prayers

 for both of her parents.  Please hold them in your prayers.
Stacey M asks 

prayers

 for her mother who will have heart surgery on August 7th to replace a faulty valve — she asks that we 

pray

 for a safe and quick surgery as well as a fast recovery; and for her energy and health for the next couple of weeks as she awaits the surgery.
Stacey M also asks 

prayers

 for her friend & former colleague, Don, who was in a terrible accident while swimming in Florida.  He has several broken vertebrae & a severed spinal chord — he is finally responsive, but will most likely be a quadriplegic.  She asks that we include his wife & son in our 

prayers

, too.
Joanne F asks 

prayers

 for Barbara V to have a speedy recovery.  She injured her knee while playing tennis, and she can hardly walk. 
Sarah S expressed her thanks to Emily S for taking her place serving refreshments today after the service.  She needed to stay home with her girls who are recovering from an illness. 
Alex 

requests

, "Please 

pray

 for my new job — that it is lasting and a positive experience for me and my employer."
Mira & Walter ask that we keep their daughter, son, & Mira's sister in 

prayer.  A

ll 3 are facing challenges in their lives.
And . . . continuing 

prayers

 for Alison A as she recovers from back surgery, Betsy N and her husband, Nasim, as they face ongoing health challenges; and Charlie Z who is in rehab after a fall.
 ____________________________________________
If you have prayer needs that you would like to have posted, please contact us: Prayer Requests
Woodland Hills Community Church  /  21338 Dumetz Rd, Woodland Hills, CA. 91364  / 818-346-0820