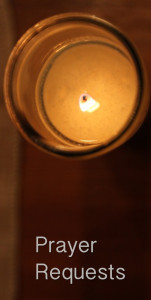 Week of April 16, 2017
A great big thank you to all who worked so hard for the beautiful Easter Sunday worship service yesterday — Pastor Craig, Dianne, Justin, Wayne, the choirs . . . it was lovely!
Ruth & her daughter, Gwen ask prayers for Ginette (a former youth member & daughter of Edna & Gerhard). Gini needs a liver transplant due to an immune disorder — prayers that she will find a donor soon.
Kathryn congratulates her husband who is celebrating his 80th birthday this week.
She also asks prayers for her sister, Virginia, whose cancer has returned. Hopefully she will be accepted into a clinical trial at Northwestern University in Chicago, & she offers thanks for all your prayers & well wishes after her own cancer surgeries.
Larry received word Saturday from his sister that his father, Jack, had a small stroke. He's been in the hospital for observation, & it's hard when you can't be there in person, so Larry asks prayers for a quick recovery.
Mira asks prayers for strength & courage for Natalie Lida, & Victor.
Someone asked for prayers of remembrance for the victims & survivors of the Boston Marathon bombing — Saturday was the 4th anniversary of that horror.
Deborah asked that we pray for our country & the world — including the environment & those who are threatened & oppressed (native Americans, blacks, Latinos, poor seniors, addicts, LGBT, those with disabilities, immigrants, refugees). Pray for peace & that our free country & its values will rise again.
Ray says, "Here at WHCC I don't consider us a congregation — I feel we are more a family, & I love you, my family & friends!" Continuing prayers for Ray, his Mom, Joan, & the rest of the family as they deal with ongoing health challenges.
Dick was in church yesterday with Kevin & stayed to share the potluck brunch that followed. Please continue to keep him & Kathy in prayer every day.
Dorothy has asked prayers for the young son of the woman who helps her around her home. His name is Emilio & he is scheduled for another open heart surgery (he's had several in his young life) this coming Friday, April 21st.
Barb's daughter, wrote:
"I am happy to send the members of the Prayer Chain & all of you who prayed for Barbara so faithfully a message of heartfelt thanks for your loving efforts on her behalf. Our mother loved Woodland Hills Community Church, its Pastor & members, with all her heart. She served the church for many years, in many ways, & considered it a privilege & a joy to be part of the congregation. She was on open, progressive & loving woman, & so was the perfect fit as a person who would join a church with that stated mission of service to all. Thanks, too, to all who participated in the glorious memorial in the sanctuary & those who sent good wishes when unable to attend. It was a perfect "Farewell"; solemn, spiritual, & even humorous by turns — just like "Barb"! The great message by Pastor Craig, great music, & singing by the choir & all of us, & an atmosphere of kindness & reverence, gave our family some solace at her loss. The "after party" was a delicious success in all respects; what a pleasure to meet old friends & new. My family & I wish all members a happy Springtime & a blessed Easter Season.
Blessings, Karen — for the Berman Family & the Robinson Family"
 S____________________________________________
If you have prayer needs that you would like to have posted, please contact us: Prayer Requests
Woodland Hills Community Church  /  21338 Dumetz Rd, Woodland Hills, CA. 91364  / 818-346-0820