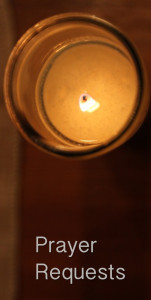 Week of September 17, 2017
Kit has good news, her left wrist is only full of arthritis & badly sprained — not broken as feared — a brace, not a cast.  But there is a tear in her right rotator cuff which means a long painful healing process.  Her daughter Karen was will her all weekend & daughter Sue arrives later this evening from Oklahoma to help — & her part time helper will be working 10 hours a day for the duration.  Please pray that things quickly fall into place & that she will soon be on her way to recovery & able to be back with us at WHCC.
Lyn reported that Joan asks prayers for Ray — he was having health issues yesterday that prevented him from being able to get out of bed, & Joan needed to be at home to care for him.  Prayers for renewed strength & courage for both.
Anne expressed her gratitude for the many people who supported her in the Avon 39 mile Walk to End Breast Cancer last weekend — the Santa Barbara event raised $4.1 million.
Kathy asks prayers for her friend, Lori, & her family as she & her Mom care for her Dad who has ALS — and prayers for him as he deals with the challenges of this terrible disease.
Emily says, "Please pray for my Aunt, Mom, & family!"  Her Uncle David passed away last Wednesday & will be greatly missed.
But Emily also reports a note of happiness from last Wednesday, too — her friend, Sarah, had her third child, a healthy baby boy, William.
Lake reported her latest problem yesterday.  She was kicked out of Extended Stay before her apartment is ready for her to move back in.  She is staying with Zazel currently, & they both ask for your prayers.
David's brother, Dickie, passed away unexpectedly on Saturday in Rome, N.Y. & they will celebrate his life at the funeral service scheduled earlier today. Pam asks prayers for their 92 year old mother, & for David and the rest of their family. Please surround them all with your love.  
And on a wonderfully happy note . . . the pink rose on the altar Sunday morning was in honor of Lilyana Rose Pullen, born on Sept. 12, to Elizabeth & Sam Pullen — Sam served as our Ministerial Assistant several years ago.
 ____________________________________________
If you have prayer needs that you would like to have posted, please contact us: Prayer Requests
Woodland Hills Community Church  /  21338 Dumetz Rd, Woodland Hills, CA. 91364  / 818-346-0820