RETIRED MEN'S CLUB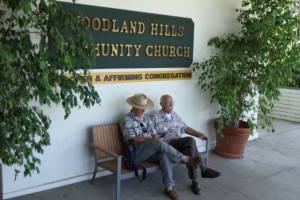 The Retired Men's Club (RMC) was founded in 1991 to provide fellowship to men who are fortunate enough to have retired from the workplace. That has remained the RMC's purpose since its inception. The mission of the Retired Men's Club (RMC) is to provide a place where retired men can socialize and discuss a variety of topics in a relaxed casual atmosphere. When needed, it also occasionally provides a safe environment to discuss retirement and other male and aging concerns.
The RMC is made up of WHCC members and several neighborhood non-church members who find the RMC interesting and helpful. In addition to senior men's issues, there are discussions on current events (including political). Occasionally, there are guest speakers and other programs of interest. Over the years, it has evolved into a meaningful supportive group of men who just enjoy the opportunity to get out of the house, away from chores and television, and just sit and visit with other men.
There is no set agenda and we never know where the spirit will take us, but all retired men are invited to attend the RMC meeting at 10:00 AM on the first Wednesday of the month in the Breese Memorial Chapel ("the Chapel"). Thanks to all the men who regularly participate in the RMC for making it a success and the viable ministry that it is.
The Retired Men's Club generally does not meet in August, however.  Announcements will be made accordingly. 
Questions?  Please contact Carl Zentner for more information.
Woodland Hills Community Church  /  21338 Dumetz Rd, Woodland Hills, CA. 91364  / 818-346-0820